You love your people & you want to take care of them…
but sometimes you wonder, what about me?!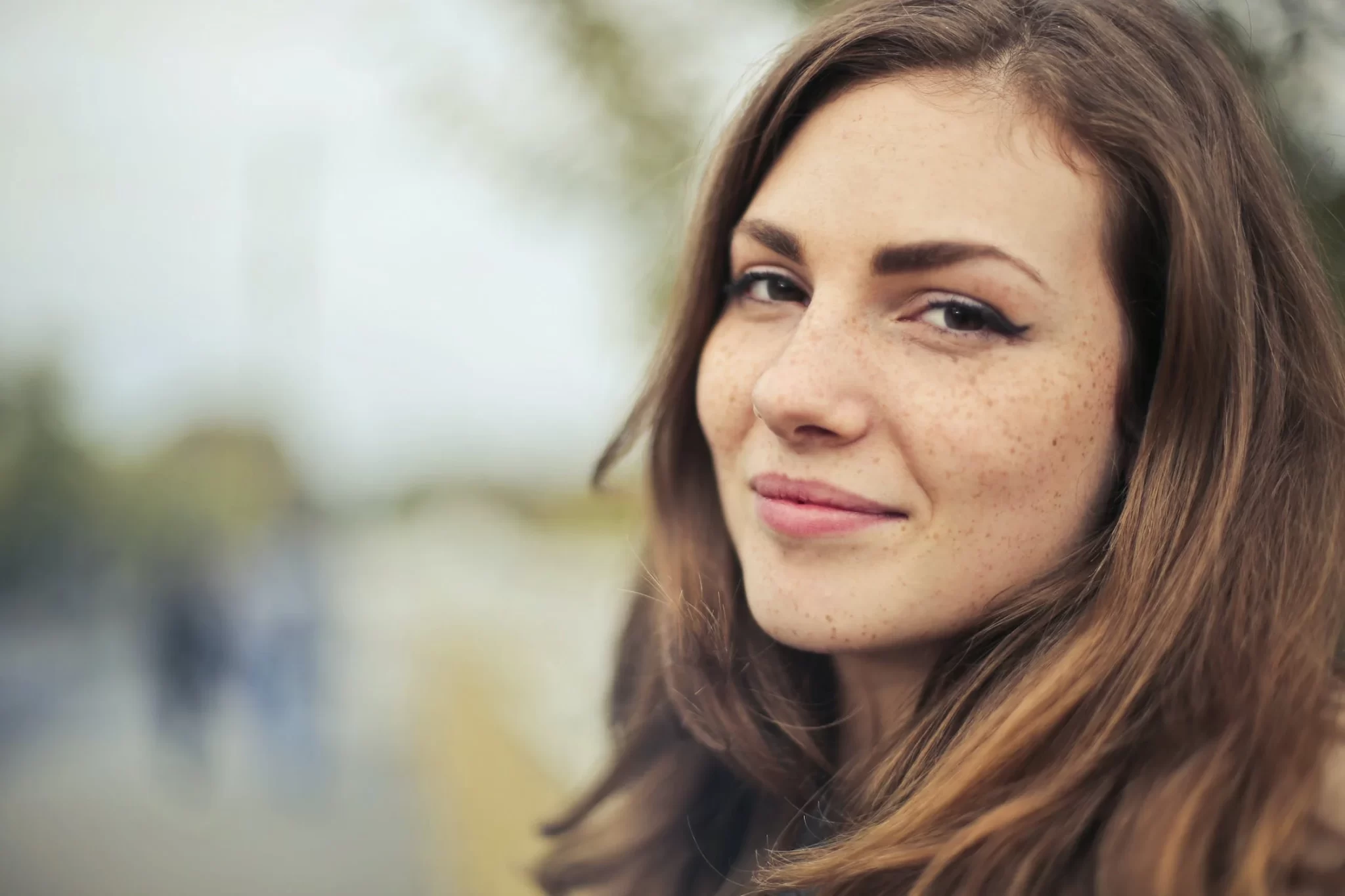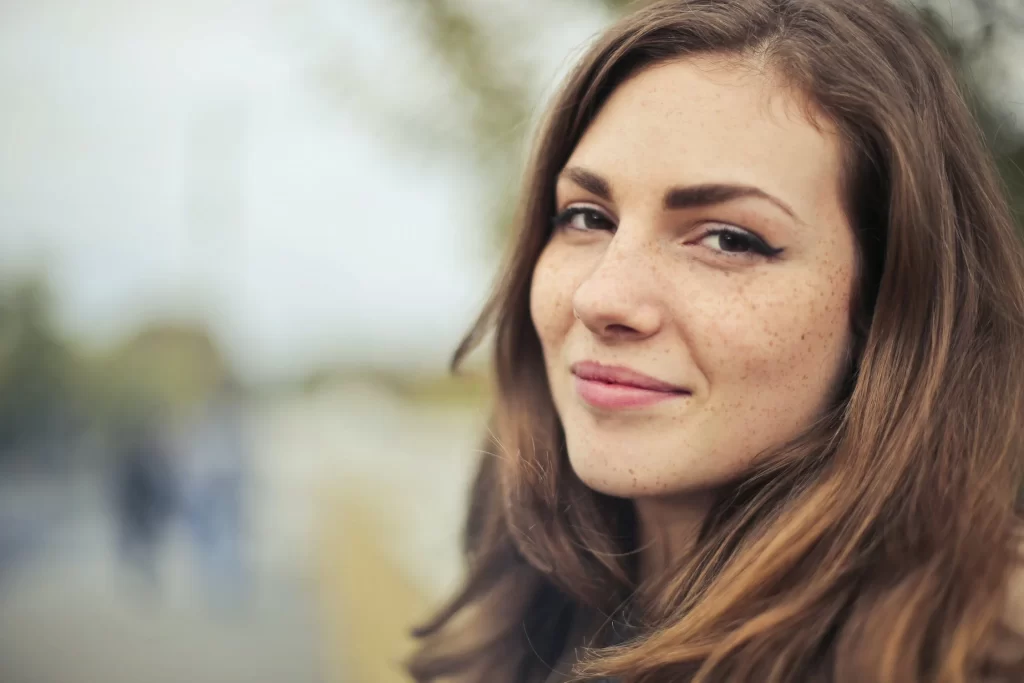 What you really want is…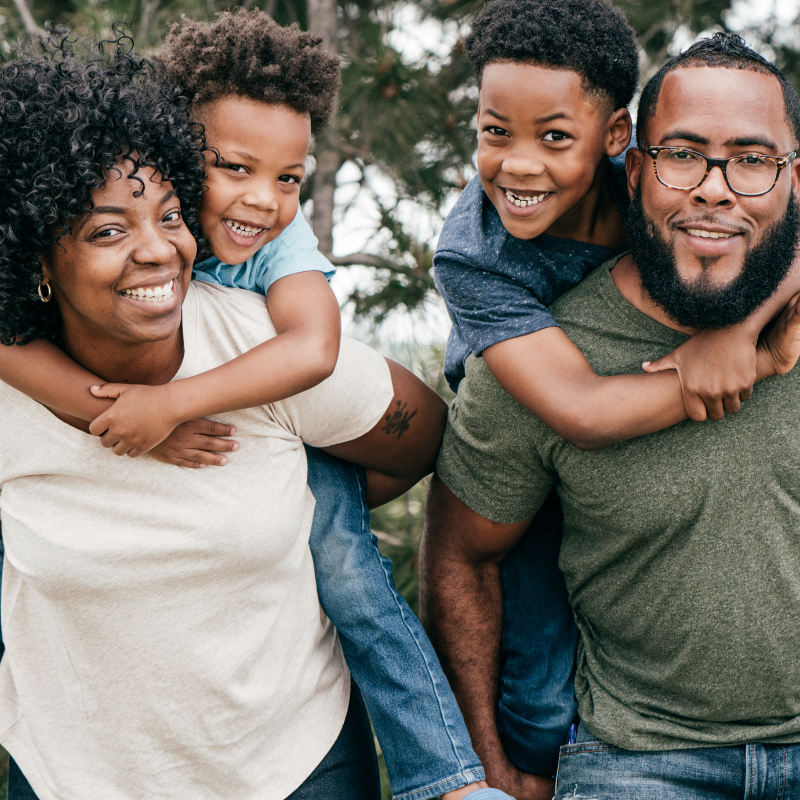 Confidence in your choices & direction in your life
Better relationships and real connection…with your husband, your kids, your family, and your friends
A feeling of self-love & self-acceptance/Security in who you are
Emotionally stability (like keeping your cool when everything goes wrong)
Time for yourself to do the things you love
To feel like you're being your real self
That's EXACTLY why I created

This is for you if you want to: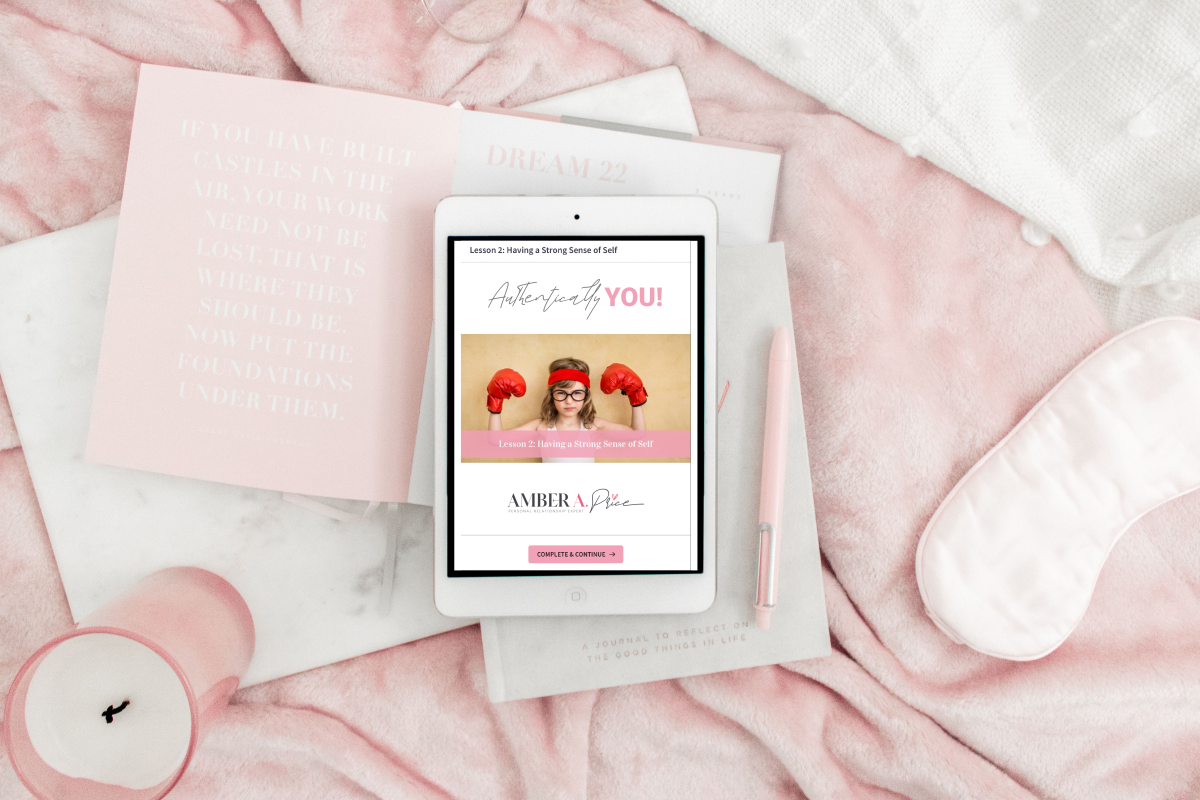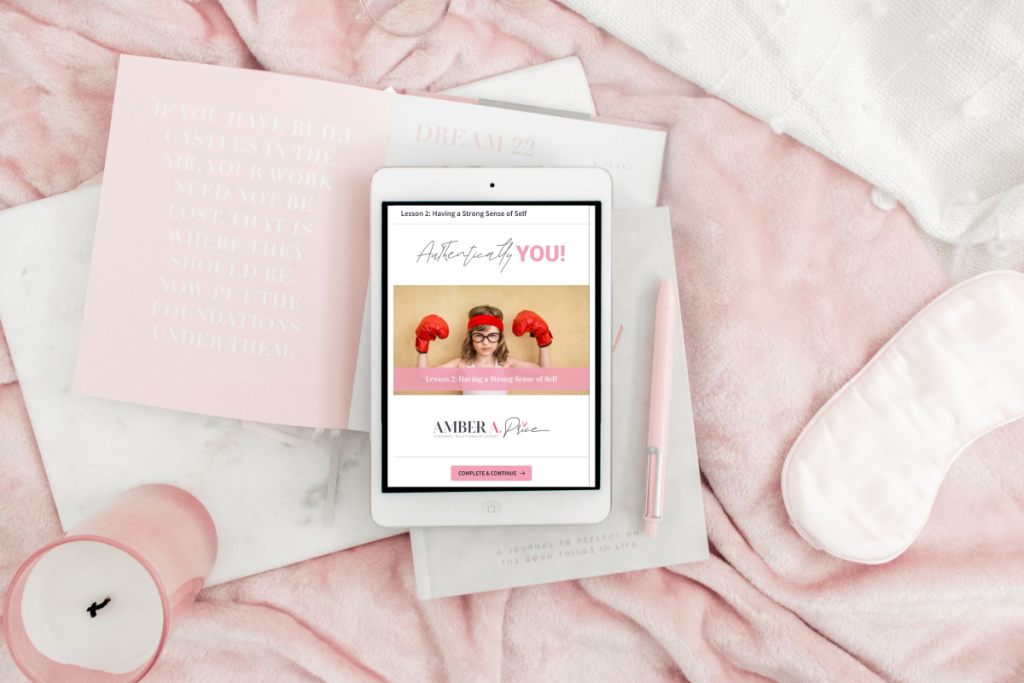 This course comes from years of conducting and reading research in my master's and PhD programs
AND

my own experience! Let me tell you a little of my story…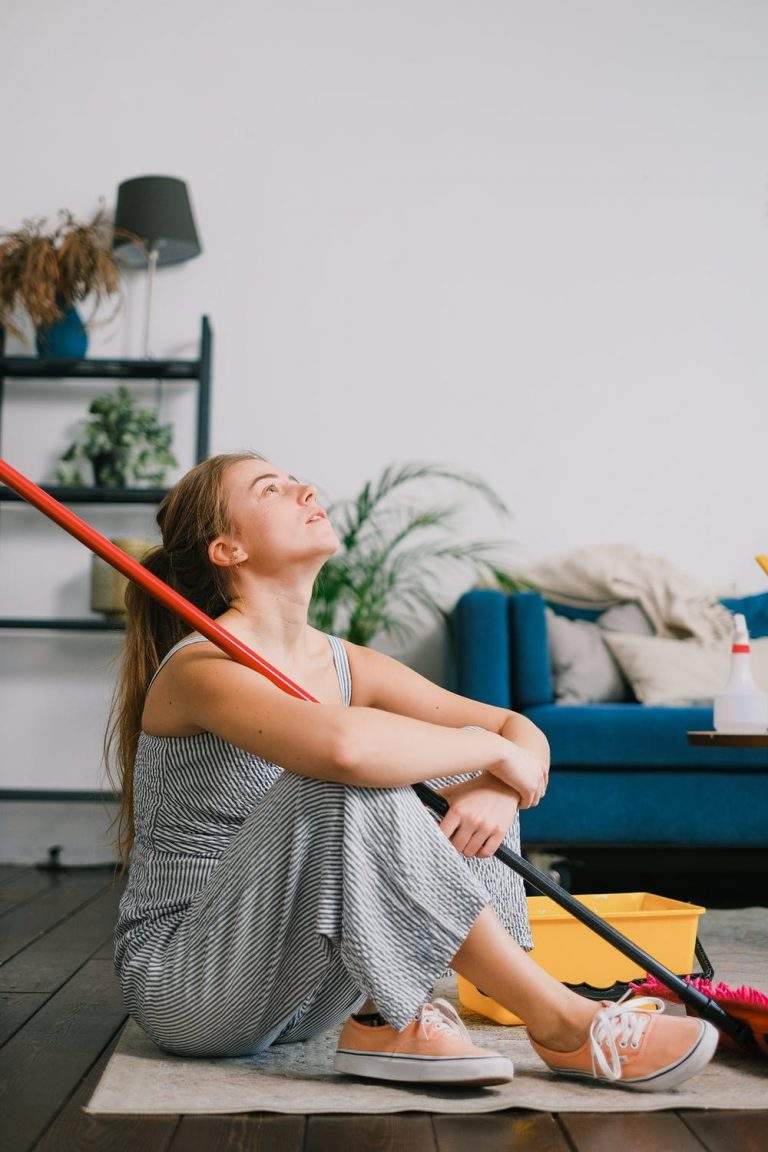 Several years ago, I found myself wanting to feel better about the person I was…
But I knew that meant I needed to confront some things in myself. I was living a good life with 4 kids and a great husband. I had a business and friends. Yet somehow I found myself grumpy more often than I wished, feeling overwhelmed by responsibilities, and feeling like everyone else's needs were taking priority over my own.
When I took a good look at myself, I could see that I was allowing other people's expectations to dictate how I lived my life…instead of choosing for myself who I wanted to be.
As I worked to improve my sense of self by removing the need to gain approval from the world around me, I found that my relationships got better, I felt more like myself, and I am becoming someone I really like. And that feels amazing!
I WANT THIS FOR YOU TOO & I'VE DEVELOPED THIS COURSE FOR THAT PURPOSE
This course is not like any other.
It's specifically designed to cut through the noise of self-help "experts" adding to your list of "shoulds." It's entirely backed by research but features real-life, applicable, actionable items that will make a difference in your life in ways you didn't even know you needed.
Take a look at what we'll cover:
We will start by looking at 3 barriers to real connection and self-love: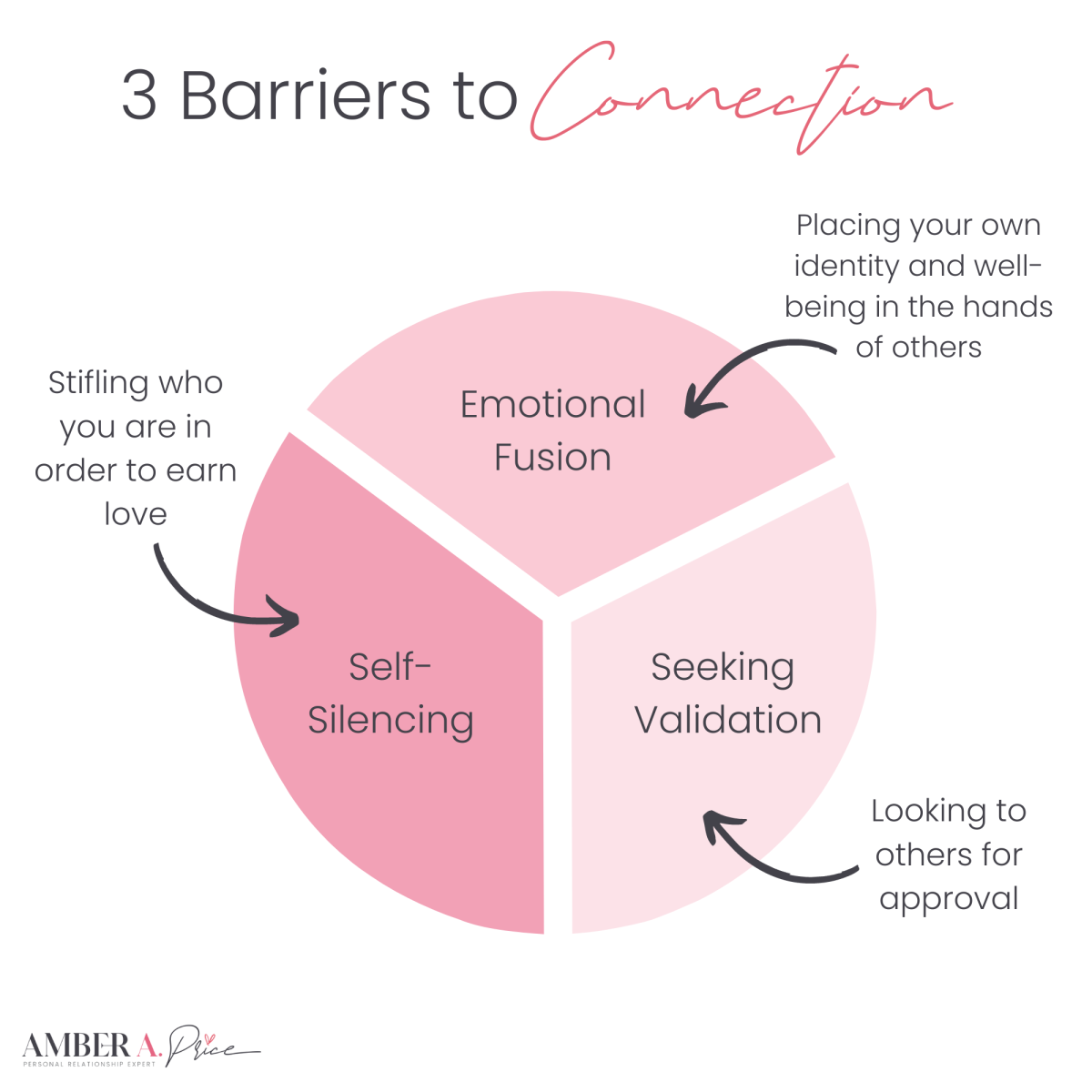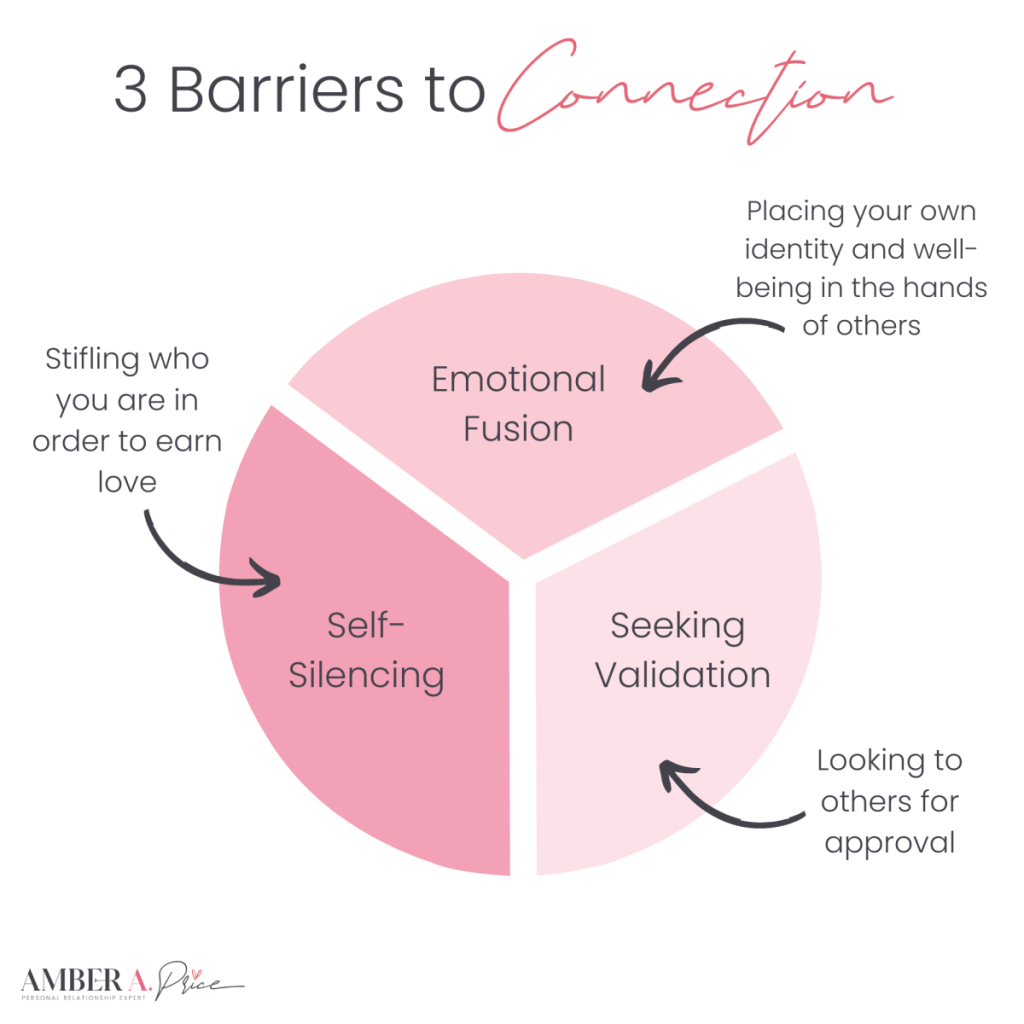 And we will take a deep dive into ways that you are looking to others for approval: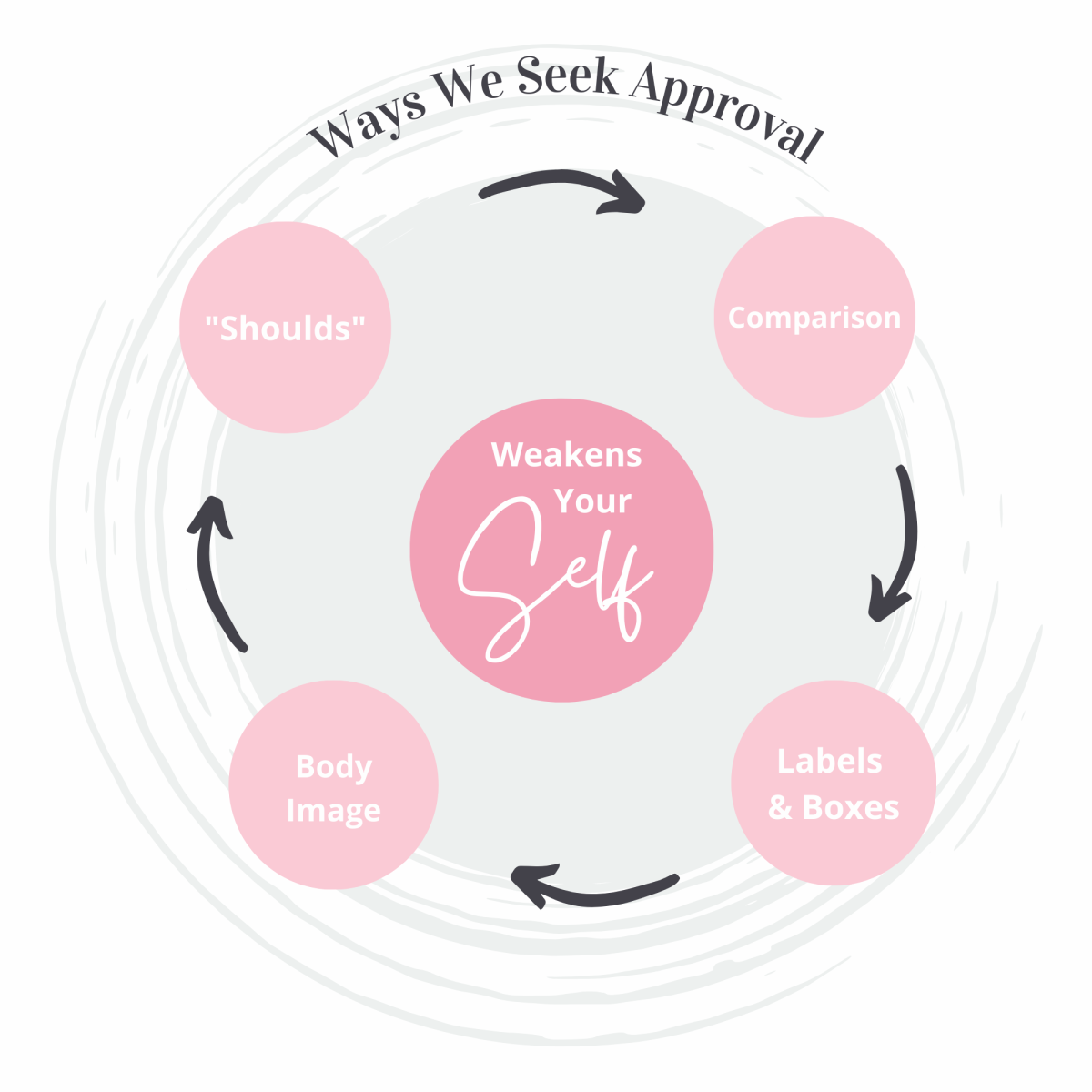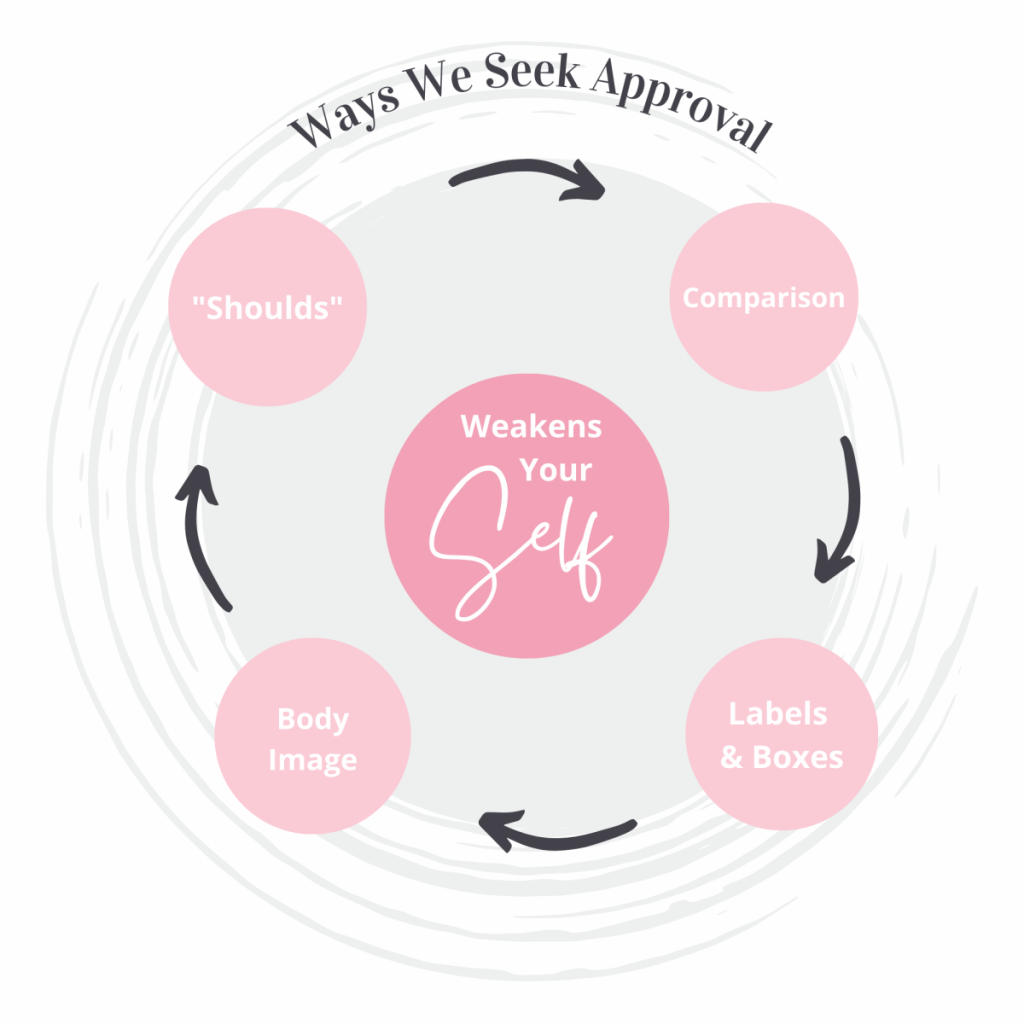 (Don't worry, we all do these things. But you can't fix what you can't see, so it's important to find these in yourself. Then, I'll help you stop doing these and figure out what you want to replace them with. This will help you not only create real connection in our relationships but also to find real fulfillment in who you are!)
This course is packed with amazing video content that you can watch from home between shuttling kids to practice and making dinner!
A Peek at the Curriculum:
Phase 1: Emotional Fusion
Lessons: Taking Ownership of Yourself (& Only Yourself), What IS Emotional Fusion, Emotional Fusion vs. Emotional Intimacy
Phase 2: Self-Silencing (& Other Aspects of Self)
12 Lessons including What is Self-Silencing, Who Am I?, Having a Strong Sense of Self, Breaking the Silence, Living with Authenticity
Phase 3: Seeking Validation
Lessons: Validation & Desired Reputation, "Shoulds," Comparison, Body Image, Labels & Boxes
Bonus Lessons:
Claiming Who You Are, Challenging Yourself, The Power of Women
You also get:
Special Launch Pricing: $247
$217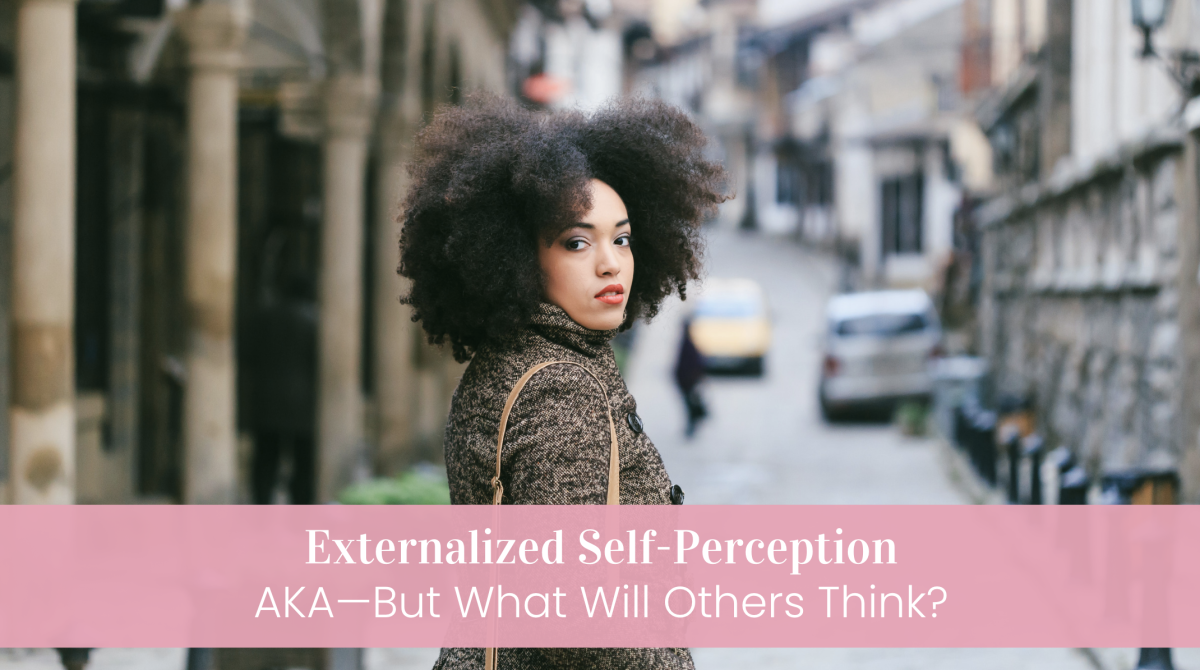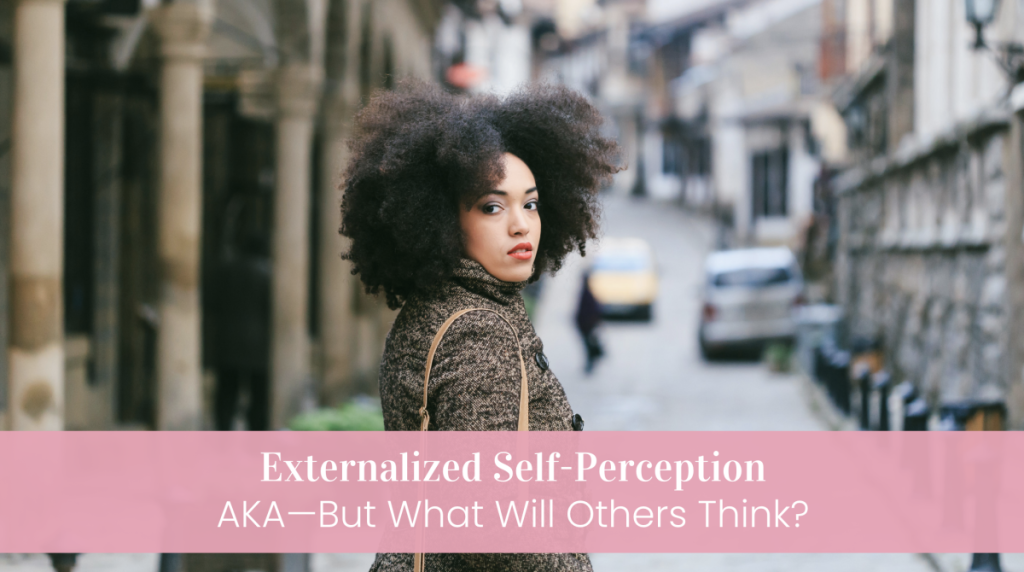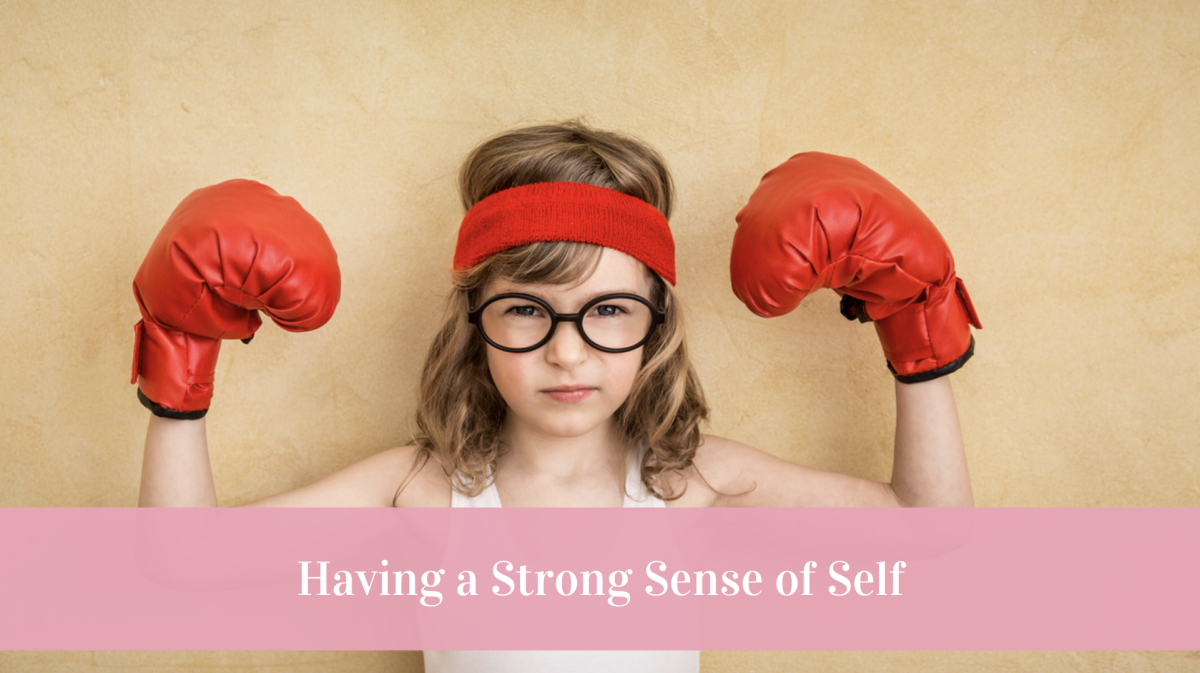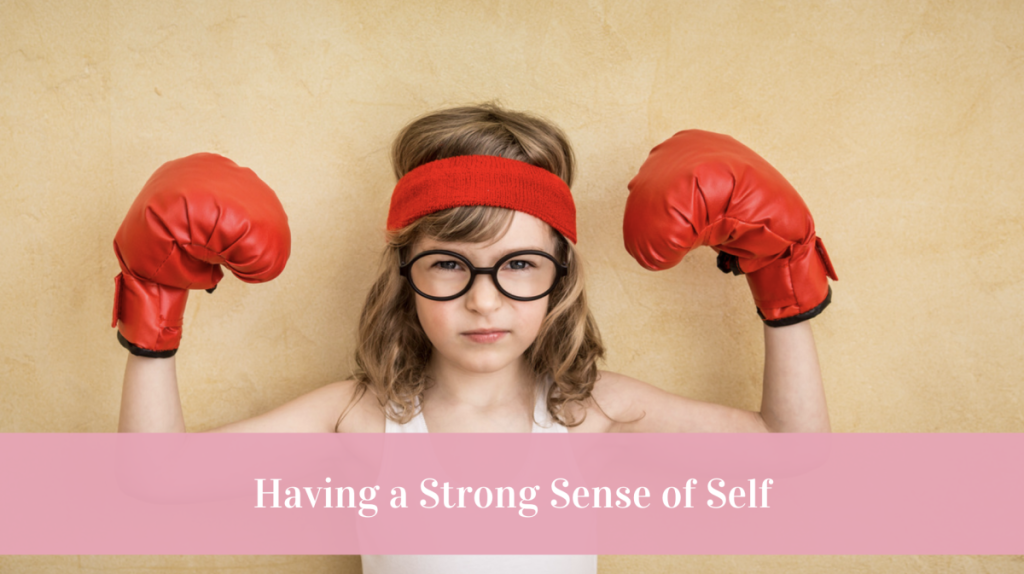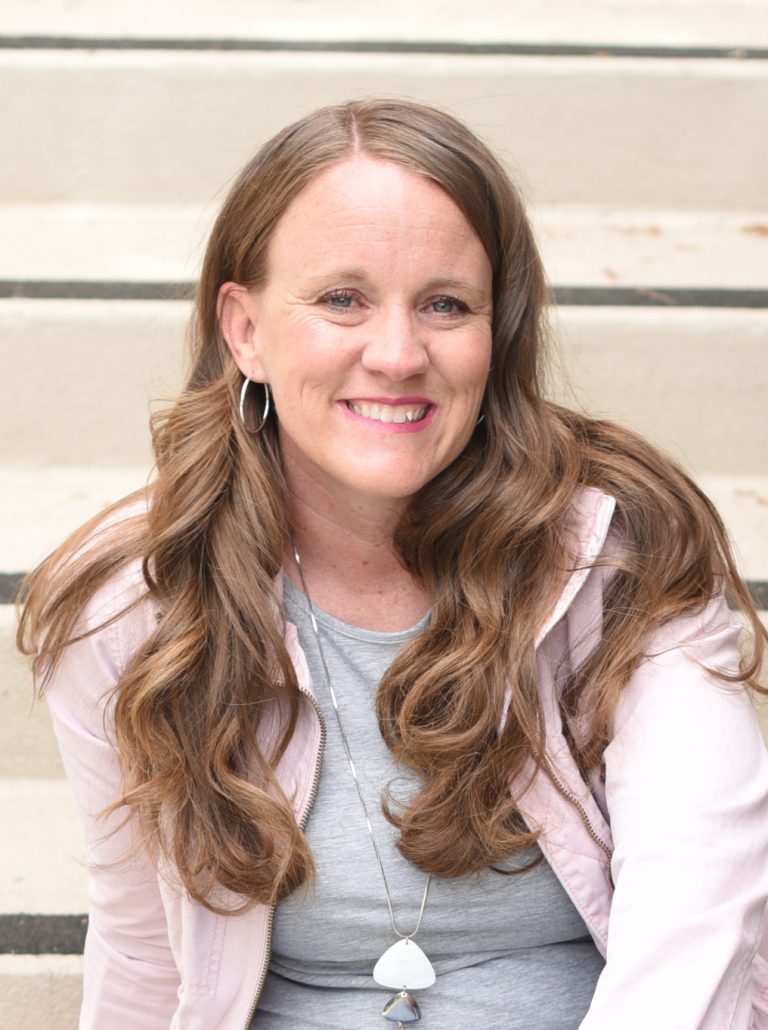 Meet Your Instructor:
Hi there! I am Amber. I'm a relationship expert, educator, and researcher who teaches women to feel great about who they are and to strengthen their relationships (we're talking real connection) by learning to let go of the need for other people's approval.
I've got a master's degree in Marriage, Family, and Human Development and I will soon have a PhD in the same field! I study all the things we talk about in this course: self-silencing, emotional fusion, and how when you are yourself, your relationships are infinitely better.
But more importantly, I am the mom of 4 boys and wife to one wonderful chemist. I also LOVE cookies and baking and chocolate in basically any form. I love being around friends, summer nights, reading and learning, date night with my hubby, the color pink, and I drink hot chocolate just about every single day year-round. And I love feeling real connection with others.
HOW THIS WORKS:
Purchase the Course
Click the enroll now button to purchase the course. You will be directed to an online learning interface to access the content.
Watch it Online
You'll have lifetime access and be able to watch it whenever you want from a computer or mobile device. Pause and return anytime.
Apply it in Your Life
The course includes examples & assignments so you can practice what you learn. Watch yourself grow & develop over time!
I KNOW YOU THOUGH…
You're so used to doing everything for someone else that you don't take time for yourself or spend money on yourself very often.
But enough is enough. This Matters!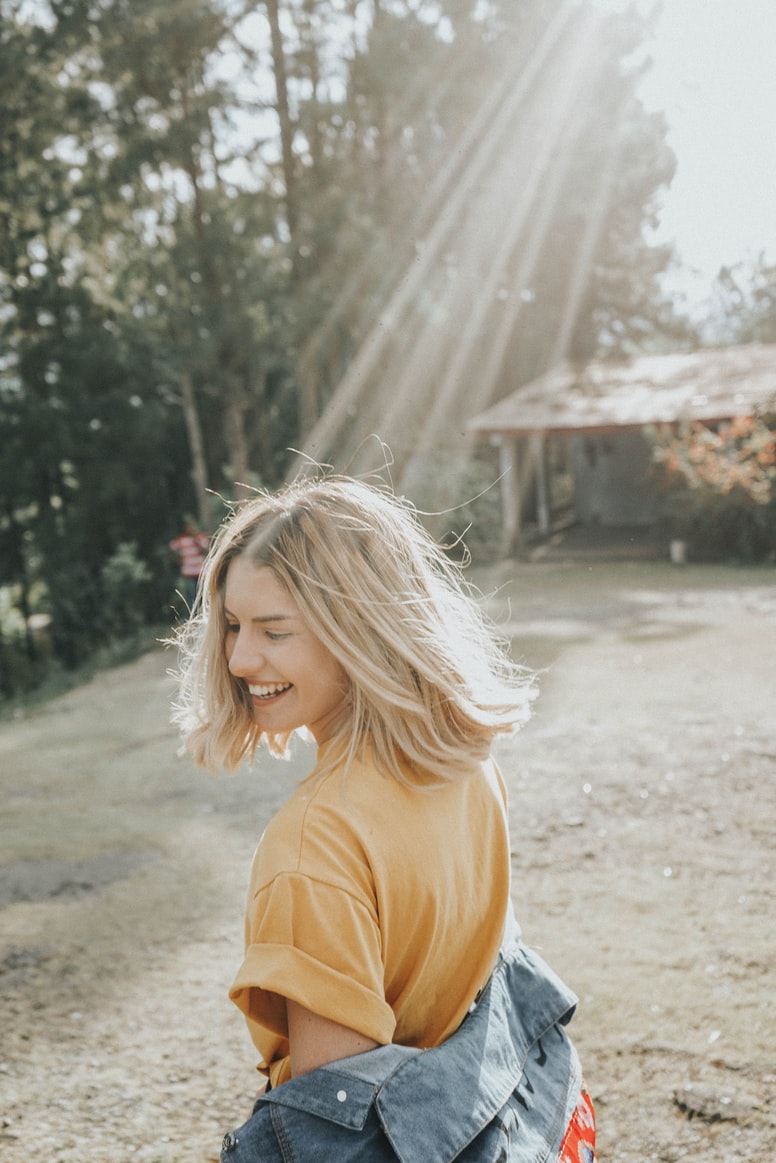 It's time to say YES to caring for yourself & to creating real connection.
Let's do this!
Frequently Asked Questions:
Q: How long do I have access to the course? Do I have a limited amount of time to complete it?
A: You will have lifetime access to the course. This will give you plenty of time to work through the modules and lessons and to apply them in your life. In fact, you can go through it more than once if you'd like!
Q: Can I let others watch the course after I purchase it?
If your friends want to join you on this journey, that's great! But I ask that you each purchase your own copy of the course.
Q: Who would you recommend this course to?
The principles in this course are fitting for anyone but it was created with the idea of helping women because I believe when you help a woman you help everyone.
Q: How long will the course take me to complete?
A: There are about 9 hours of recorded material in the course with several YouTube videos to watch throughout as well (which are linked for you in the course content), so the actual watch time will be a little over 9 hours.
There is also homework throughout which I HIGHLY recommend completing. And it can be really helpful to take it slow enough that you will be able to apply the principles you are learning before moving on to the next section. Ideally, it will take you several months, though the truth is, whatever works for you will be GREAT!
Free free to contact me with other questions!